Hello all and happy Valentine's Day! While some of you are either out with your special someone eating a candle-lit dinner or staying at home watching your favorite Rom-Com after a long and tiring day of telling people how pointless this holiday is, what you should really be doing is keeping up with your favorite blog. If you pretend hard enough it's almost as if I'm talking directly to you. (I can almost hear the countless swoons.) Anyway, since this is the holiday of love I figured I'll write about something
I
love: MILFs.
Now I hear this question all the time. "Crunchtime Guaps AKA the MILF Hunter! Please tell me, why do you love MILFs so? I'm young, attractive and can satisfy all you Guapo needs." Well, sorry to say, that just doesn't cut it. What I attracts me to these MILFs is they have been battle tested. What I mean is, they already have kids so I know that oven can house a baby Guapito. I can't just put my heir in just any woman without knowing if she could deliver him to this world safely or not. (I'm just not going to take that chance.) Plus they've proven that even after giving birth they can get back to the gym and return to good form.
There is also a sense of maturity that you just don't get from these younger girls. And I respect a powerful presence, a woman who can take charge. Honestly what I really want is a sugar mama. Someone who will get me into the country clubs so I can golf and drink Long Island Ice Tea and the only thing I need to do in return is give her a little bit of Guapo. I've always respected Kevin Federline for this reason. He is a man who knows how to live. And for this reason I must hunt. You might find me in the wilderness with a safari hat being stalked by a cougar. Little does she know that this cub has her right where he wants her. (If you're feeling a little uncomfortable by this point, don't worry it get's worse.)
So this brings us to our first Top 10 in a while. Today it's Top 10 MILFs on TV. Here are the guidelines for this list. First, the MILF has to be on a current TV show. I'm not going all the way back to a show from the 80's to complete this list. Second, the has to be a MILF. Not going to spell out the whole acronym because I want to maintain some small level of purity, but essentially she has to be a mother. And attractive. Point being it can't just be a really good looking older lady. This rule, like the first, just makes it easier for me to narrow down candidates. Regardless if the actress has kids in real life, if the character is a mom on the show and is hot, she qualifies. I've had done a lot of research this last week or so (and I mean A LOT), so let's get started.
10. Lily Aldrin How I Met Your Mother
She's this weird combination of cute and hot. I mean, I look at her and she's this cute older lady who is also pretty hilarious, but then she also has this insane libido on the show. (At times she reminds me of the young, nerdy nympho she played on American Pie. My, oh my, she has grown.) Honestly, Lily is probably the kind of woman I'd like to marry. Marshall is really one lucky man.
9. Cersei Lannister Game of Thrones
Cersei is hot mainly because she's a woman in power. Don't get me wrong, she's pretty attractive, but the fact that she's the queen and she's in control and she's kind of a bitch is what really propelled her to this spot on the list. Minus points for sleeping with her twin brother Jamie Lannister and her cousin Lancel. (It's kind of a turn-off)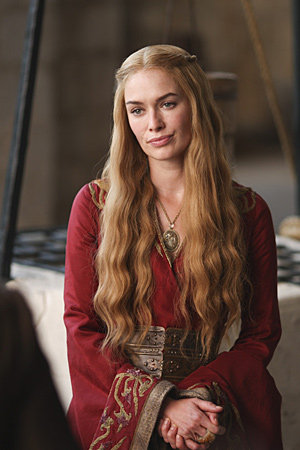 8. Gloria Delgado-Pritchett
Modern Family
I can feel people being upset with how low I put Sofia Vergara on this list. I swear all I hear is people saying how hot she is and what an amazing body she has. This is true and on paper her character is the perfect contestant for this list. My main problem with her is her thick accent. Now some people like that accent and I get that. For me, when she talks it reminds me of some of my aunts and it makes her lose some level of attractiveness. Don't worry, 8 is a really nice spot.
7. Gillian Darmody
Boardwalk Empire
Up until Angela Darmody was killed in season 2, Gillian was the show's number two MILF. With Angela out of the way Gillian arose as the hottest mother on the show. (Sorry Margaret.) This bitch is straight up crazy. If I've ever seen crazy eyes on a TV character I've seen them on this woman. She's crazy to the point that it's kind of hot, but then she goes even further to the point where it's a scary kind of crazy. Minus points for sleeping with her son Jimmy. (What is it with these MILFs and incest?)
6. Selina Meyer
Veep
Most people remember Julia Louis-Dreyfus from her role as Elaine on
Seinfeld
. Well, in her new show,
Veep
, she's just as funny and in my opinion even hotter. I don't know if it's because I hate the way fashion looked in the 90's or if she just ages really well. I've always had this theory that all women are either like milk or wine. Either they spoil over age like milk does or they get better as time rolls along. Julia Louis-Dreyfus is definitely a fine wine. Anywho, she plays the Vice-President of the United States in
Veep
which goes along with my thing for powerful women.
5. Claire Dunphy
Modern Family
Whoa!
Modern Family
has two finalists on my list! Does that make it the most MILF-tastic show on TV? We'll see. Anyway, Claire was kind of an obvious choice for me. She popped out three kids and still looks like that? Yep, she's on the list. (I know some of you guys are steaming about the fact that she's about Sofia Vergara.)
4. Monica Talbot
House of Lies
I haven't really met anyone else who watches this show. It's not that bad, actually. It has Ben Shwartz. But this list has nothing to do with how good a show is. It does feature a very, very hot MILF though. Monica is Marty's crazy ex-wife and man is she a baddie. Unlike Gillian Darmody she's not crazy in a scary way. Was
this
close to making top 3.
3.Betty Francis
Mad Men
Originally I had her number two. But I realized that she dresses a little too modestly for my taste. (I'm not watching
Little House on the Prairie
.) And she got fat. Luckily for her that didn't knock her out of the list because I'm still catching up on Netflix and I haven't gotten to that part yet. I mean, come on, she's played by January Jones. I can't just leave her out.
2. Joan Harris
Mad Men
I bet Christina Hendricks would be ecstatic to find out she was moved from the third to second on this list. It's a tight race between Christina Hendricks and January Jones for who's the hottest on the show, but after careful consideration I put Christina ahead. (Nobody out there should be yelling out "Peggy!" I guess Don is an acceptable thing to shout.) Anyway, I'm glad Joan had her kid just so I could put her on this list. You know what my favorite part about her is? Just watch this
video
.
1. Daenerys Targaryen
Game of Thrones
If Daenerys Targaryen is on this list for only one reason it's because she's the mother of dragons. Three of them! So what if she didn't give birth to them; she walked into fire and that's way better than laying back in a hospital bed and popping out a baby. If she's able to be a mother for three baby dragons she can definitely handle a baby Guapito. It's kind of the same reason I was attracted to that red-headed girl from
Prometheus.
I'm sure I wasn't the only one who was a little bit turned on when Elizabeth had that C-section and had that cute alien squid baby. Right? (If you haven't already, check out my review on
Prometheus
.) Back to Daenerys, she's pretty damn hot. She has this white hair but it's not old-people-white, it's weirdly-hot-on-a-young-person white. For that she is crowned the best MILF on TV.
Okay guys, that wraps up my latest blog post. I think I've brought enough shame to my family for one night. I hope you guys have a very happy Valentine's Day. If you're feeling lonely and don't have a valentine, no need to worry. If you believe in your heart, I'll always be your valentine. Stay tuned for my next post and make sure you follow me on Twitter @ElGuapo3. Just recently I've celebrated my 3,000th tweet. Have a good night and stay Guapo out there.