Hello, everybody! Guapo is back with another edition of
Infinite Wisdom!
I've been riding the high I got from the success of
my last post
and haven't really had the time to write anything new/felt entitled to a little hiatus. But isn't it better this way? I like the idea that no one ever knows when I'm going to drop my next post. It's unpredictable and just makes things much more exciting. One day I'll wake up and decide I want to write something and later I will do so and release it. Now what if on the same day your mom gets in a car accident? You're in the waiting room at the hospital wondering if mommy's gonna be alright and then you see it! A new post by Guapo about the
Top 10 Milfs on TV
and you've forgotten all about your problems! (Thank the Lord!) The point I'm trying to make is when you guys are sitting there wondering when my next post is dropping just know that unlike
Detox
my shit is eventually coming. I might not come when you ask but I'm always on time.
Speaking of
Detox
, there's been some good rap albums dropping this year. I copped Big Sean's
Hall of Fame
last week and that shit was fire. (Oh God!) I love rap music. I listen to other shit but I have more rap albums and mixtapes than any other genre of music. My favorite thing about rap music: album skits! My second favorite thing: ad libs! I just love ad libs. I don't understand why other music genres don't have ad libs. In fact everything should have ad libs, especially blogs. (Tru!) What is it about ad libs that's just so perfect? Some rappers like to drop a nice bar and before you can react they hit you with an al lib. It's like the Migos and their chirping. Some rappers hit you the ad lib before they spit so you know they're about to go in. Think Pusha T's "Yughh!" or Jadakiss' weird parakeet-type sound. And sometimes the rapper just has an ad lib to let you know whose track you're listening to, like Hov's "'Sha Boy!" I've decided to compose a list of my favorite rapper ad libs. The list will be decided based on creativity and recognition. So strap in your seat belts because this is going to be quite the ride.
10. Gucci Mane (Best ad lib: Burr!)
I don't really fucks with Gucci like that in all honesty. I might've downloaded a mixtape a while back and never got around to listening to all of it. I do fucks with his ad libs though. I find myself yelling out "Burr!" when it's 90 degrees out. It's mad catchy. He's not just a one trick pony though, he can also yell out his name and shit!
9. Lil B (Best ad lib: Swag!)
I admit it. I actually fucks with Lil B. I copped that
Everything Based
tape a few years back. I even copped some of his non-classics. His lines are as complex as the formations of bottle-nosed dolphins. "Hoes on my dick cuz I look like Jesus!" Anywho, he drops in that "Swag!" in between those bars and made that shit hot for a cool second. I used to say "Swag" all the time before I became a man with a job and a blog. Don't forget about that "Whoop!" that Based God yells. When I used to cook I used to "Whoop!" while turning my spatula.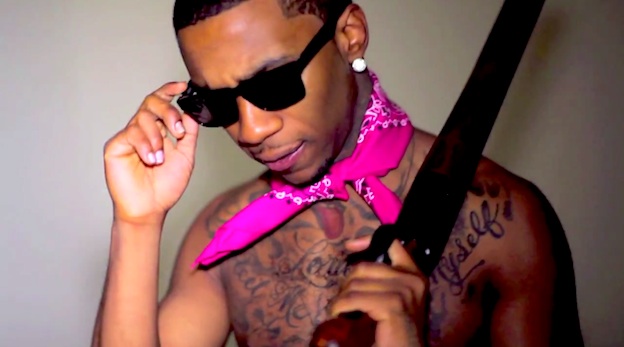 8. Juicy J (Best ad lib: We Trippy Mane)
Juicy J can't say no to a lot of things, including ad libs. And we thank him for that. His "We trippy mane" ad lib has a few variations. Sometimes it's just a simple "Trippy" to let us know he's here for us. (On a side note I still need to cop
Stay Trippy.)
Juicy J also throws in that high pitched "Shutdafuckup!" we've all grown to love.
7. DMX (Best ad lib: Grrrrrr!)
DMX is a scary guy. He's from Yonkers. That's where dreams die and reincarnate as nightmares. By the looks of DMX's music videos the only female there is Eve. Also I'm sure DMX is the type of guy who goes to jail for the sole purpose of getting to rape another man in the shower. That being said I fucks with this guy's music hard. I don't know what it is but his "Grrrr!" gets me fucking juiced. And then he does is dog bark and I'm driving to the nearest correctional facility to confess a crime I never committed. He'll also yell out "Come on!" which is prefect when you're trying to finish your last set.
6. Eminem (Best ad lib: Hey!)
Eminem is a little tough to write about because he doesn't really have a go-to ad lib like most rapper. Instead he makes these sound effects that somehow go with the line he just dropped. Sometimes it's a fart noise. Sometimes he'll yell out "Ow!" after he drops a line about shooting himself in the head or anything alse that seems a little painful. And every once in a while he hits us with a "Hey!" Either way Eminem probably has some the more humorous ad libs in the game earning him a solid spot on this list.
5. Jim Jones (Best ad lib: Ballin'!)
Jim Jones is similar to Eminem in the fact that he ad libs specific to the line he just spit. But he does have his ol' faithfuls that he likes to use. He also ad libs more than any other rapper I know. I think every line comes with a ad lib. You can make a whole song with just his ad libs. He drops that "We in the building" and "Flossin!" and you can't forget about "Ballin!"
4. Big Sean (Best ad lib: Boi!)
Sean doesn't really say "Boi!" anymore, but that's what I like about him. His ad libs evolve as he evolves. They make an already entertaining rapper even more entertaining. His early ad libs were great. He had "I do it" and "woahder". And Sean saying, "I fuck yo bitch with a Louie Vuitton condom" before his verse on "My Closet" is still the best thing I ever heard. But Big Sean is more mature and has grown man ad libs like "Oh God!" and "Hol' Up" and sometimes he'll hit you with that "Mmmmmm!" Let's see what new ad libs he as when his next shit drops.
3. Rick Ross (Best ad lib: Ughh!)
So what if Rick Ross has some kind of lying disability. I think his ad libs should more than make up more his lack of honesty. He really only has two ad libs that he relies on, but it's not about the quantity of ad libs, it's about the quality of ad libs and how you use your ad libs. You got your standard Rick Ross grunt which lets you know that Rick Ross is about spit some heavily exaggerated yet beautiful bars. Plus he also has his "Woo!" that he likes to sprinkle along his songs for effect.
2. 2 Chainz (Best ad lib: Tru!)
I don't think 2 Chainz would be 2 Chainz if he didn't yell out "2 Chainz" before his verses. And the rest of his ad libs are on point. His ad libs are what I would have yelled out if he didn't already do it for me. Sometimes he'll spit something really nice and before I can yell, "Damn!" 2 Chainz already did that for me. I started saying "Tru" because of 2 Chainz. That's some influence. We can't forget about Tity Boi's other favorites like "Tell 'Em" and "Yah". He would've gotten first except someone else much better at ad libs beat him to it. And that man is...
1. Young Jeezy (Best ad lib: Yeeaah!!)
Technically he's just Jeezy now but I don't really pay any attention to these subtle name changes. I never dropped "The" from The Game's name. At least it's not something arbitrary like dropping a hyphen from your name. (I'm looking at you Hov.) Back to the topic, Snowman is the king of ad libs. I lied earlier; quantity does have a little to do with this list. Like Jim Jones, Young Jeezy likes to rapid fire his ad libs and stuff as many as he can into one song. But it's the combo of quantity an quality that sets him apart from everyone else. Of course there's the world famous "Yeeaah" but we also have his "Cheea". There's his laugh and "That's Right" and "Dayum!" We can't forget about "Ay!!!" There's too many to include in one paragraph. So congrats Snowman! Can we get a celebratory ad lib? (Ay!!!!)
And that's a wrap guys. I hope you've enjoyed this list. What do you guys think? Did I leave anyone out? I had a lot of people to choose from. I'm gonna get out of here but make sure you stay tuned and look out for any of my upcoming posts. I also have a
spin-off blog
that will be released for the first time tonight so you can check that out. It's a little project I planned less than a year ago that I'm finally watching come to fruit. Make sure you keep up with me on Twitter @ELGUAPO3 and Instagram CAPTAINCRUNCHTIME. My Tumblr is sirelguapo.tumblr.com. As always feel free to comment. Stay Guapo out there!