Hey people! I'm back with another post, a special edition post. Why? Because today is a special day! Today is me and my girlfriend's one year anniversary! (I know, right?) One year! Un ano! (Haven't figured out how to type in Spanish yet.) Uno anno! (That's Italian.) You get it. So what better way to celebrate than me sharing a blog on the amazing things my girl brings to the table. Since we've been together a year and a year is comprised on of 12 months, it's only fitting that I come up with a list of the 12 greatest things about her. Coming up with more than 12 great things about my girl was easy. The hard part was narrowing them all down to the top 12. This list is in no particular order. Let's get started.
1. She's Beautiful
Let's get this one of out the way. I'm not a cheese ball so I'm not going to say something ridiculous like I only care what's on the inside. Don't get me wrong, personality goes a long, long way (we'll get to that), but I wouldn't insult anyone by failing to mention that I am very attracted to her. She has one of the most endearing smiles. Her eyes are hypnotic and her complexion is perfect. She's got amazing legs and she's thick, a key component. I also enjoy **** **** ** *** ********* **** ** *****. (This part was edited out at the end when I realized my mom will probably end up reading this too.)
2. She Makes Me Laugh
She's probably one of the goofiest people I know. The inside jokes we have are more than abundant and she can never fail to make me at least chuckle. There are lot's of people who think they are funny, but my girl actually is. Not in a stand up comedy kind of way, nor in a clown-like way. Just in a I-know-you-and-I-know-how-to-make-you-smile kind of way.
3. She's My Opposite
In many ways she is my opposite, the perfect foil. In what might seem like just two totally different people actually has made a lot of sense in this relationship. We both have what the other one lacks. In that sense we are able to get new perspectives and get out of our shell. I really like me. But I would hate to date someone like me and my girl is not like me. Someone once said opposites attract. I thought that guy was an idiot. Turns out he may have been right.
4. She's Sociable
I guess she's the opposite of K. Dot according to his "Control" verse. ( I never had the chance to make a "Control" reference at the height of its popularity. Sue me!) But this is a quality I really admire. She's not shy which means I can throw her into any mix of people and she would be fine. She tries to get to know people and make a good connection. This quality actually made it possible to meet. Some people don't like meeting new friends (a la Drake) but sometimes doing so can lead to great things.
5. She's From the Bay Area
Well, she's from Richmond, which is part of the Bay Area. It's just not a part I am particularly fond of. All jokes aside it's always great to meet people from my home and even better to have someone who I'm intimate with have that connection with me. Let me just jot this down on paper (internet paper), people from the Bay Area are awesome, and in general better people from LA. (Stings doesn't it.) Don't get me wrong, I have lots of friends from LA who are dear to me. My point is, like the Beach Boys said they wished "they could be California Girls", I wish they could all be Bay Area girls.
6. She's the Right Amount of Crazy
Let's settle this now: all girls are loco. Psychos. Crazy. Insane in the membrane. That's fact that I'm not gonna bother debating. But that's not all bad. And there is such a thing as the "right kind of crazy". Too much crazy and a girl will fly off the handle and you might not live to see tomorrow. Not crazy enough and you spend your weekends looking forward to sitting around and reading newspapers for fun. A little crazy adds some excitement to your life. It leads to new adventures. Honestly, everyone should have a little crazy in them. I think my girl is just crazy enough for me. Not so much that I fear for my life. I could always be wrong, in which case look out for my name in the obituaries.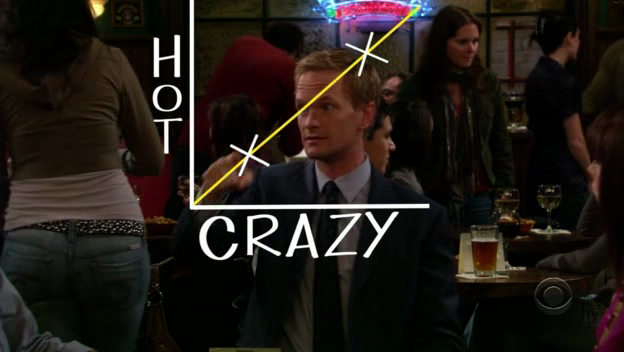 7. She Has Good Values
I grew up with parents who taught me the right way to do things. ( I may not have always listened.) But the values that were instilled in me by my family, the Church and all those who shaped my life are very much important to me. It's always good to find someone with a good heart for helping others, a good spirit for keeping the faith in God and a good mind for keeping the values of love, care and support. She is a good person with all those great qualities.
8. She Is Willing to Learn & Teach
Like I mentioned earlier the great thing about me and my girlfriend being opposites is than our flaws and strengths are able to cancel each other out in a way. There are certain things that I'm particularly good at that my girl struggles with and vice versa. The great thing is that she is willing to learn and grow from what I'm able to teach her. At the same time she is able to teach me things I wouldn't be able to learn on my own. What good is a relationship if there is no learning and growing involved.
9. She Is a Great Singer
My girl has a voice. A very lovely one at that. She can sing and it's not a talent everyone has, and yes that includes me. Sometimes it's just good to sit back and enjoy the talents of my girlfriend. Especially on a long road trip, when the road seems like it goes on forever, the sound of a beautiful voice breaking the silence can make a big difference.
10. She Somehow Likes Me
I'm not the greatest man to walk on Earth and I'm nowhere near perfect. (I'm just really handsome with a cool blog.) But it feels great to have someone who truly likes for who you are. And not just the good parts, but the flaws too. Someone who appreciate all the wrinkles and support you abundantly with any dream or endeavor you may have. I'm lucky to have that and I appreciate it very much.
11. She's a Great Cook
When she cooks it's pretty much a done deal that the meal will be amazing. Yeah sure, the food will not be very healthy (she hates veggies) but it will be damn delicious. My mouth is watering at the thought of her cooking. Not a lot of people's cooking can do that. So it's safe to say she's part of an exclusive group.
12. She Makes a Bad Day Good, and a Good Day Better
This is really an understatement. Everybody has bad days and most of the time people have to pick themselves on their own. Sometimes it's just good to have someone there to lend a hand. At the end of a rough day she can make me smile. And sometimes at the end of a great day she can be the icing on the cake. I said I wasn't ranking this list, but if I was this probably takes the cake. It's for all these reasons, and then some, that I love her as much as I do.
Well that's my time folks. Can't spend my whole day writing. Thank your taking the time to read this. Sorry that I haven't updated my blog in a while. The last time I wrote was probably the piece on Robin Williams and so I might have needed some time until my next post. But keep a look out for my new projects. A few announcements: unfortunately I don't have HBO and can't keep up with
Boardwalk Empire
. Thus I can't update
Infinite Wisdom on Boardwalk Empire
. Sad, I know, so that project is terminated. It had a great run and I loved doing it. No worries, a new special project is coming soon as well as new posts for the main blog. As always follow me on Twitter and Instagram @ELGUAPO3 and @CAPTAINCRUNCHTIME respectively. I'm gonna spend some time with my girl so have a great day and stay Guapo out there!