Baron Davis. BD. Doom Dizzle. Like most people El Guapo had a few heroes growing up, whether they were close family members, celebrities or even athletes. Baron Davis was one of those heroes. Now, those not old enough might not know who this man is but take it from someone who lived through the Baron Davis Era, he was really good. Baron Davis' adventure begins in Los Angeles, South Central to be exact. Baron played ball for Crossroads, a prestigious high school in Santa Monica, where he was named the Gatorade National Player of the Year and was selected to play in the McDonald's All American High School Basketball Game. So he was pretty good in high school. (All that was just paraphrased from his Wikipedia page.) He stayed local and ended up playing college ball at UCLA. He was named Pac-10 Freshman of the Year (back when it was still Pac-10) and declared for the draft after his sophomore year. So he was pretty good at this basketball thing.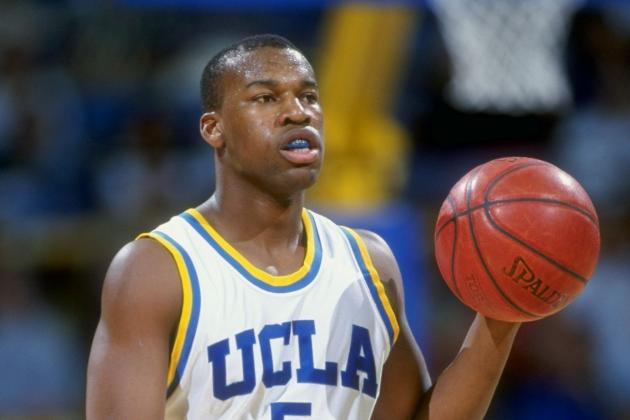 So from 1999 to 2005 Davis spent the beginning of his career with the Hornets (both Charlotte and New Orleans.) Baron was a special kind of point guard; he was big and strong and could post up smaller guards but at the same time was quick and had a handle. He was a natural scorer and an extremely creative passer. He was less a traditional point guard, but rather an athletic scoring point guard. Baron even competed in the slam dunk contest one year. (He lost.) The dude led the Hornets to the playoffs a couple times and was selected to the All-Star game twice, albeit once he was a replacement for the injured Vince Carter. Baron was good enough to make the All NBA Third Team as well. His problem however was that he couldn't stay on the floor. As athletic as he was he continually suffered injuries in the latter years of his stint with the Hornets. So in 2005 Baron Davis was traded to the Golden State Warriors for Speedy Claxton and Dale Davis (right?) and a new stage in Baron's career began.
(He'll be back)
At this point of time my Warriors weren't very good. Mike Montgomery was our head coach; Troy Murphy and Mike Dunleavy Jr. were our second and third best players. But we had J-Rich, who I've mentioned is my favorite player of all time. When I first heard about the trade for Baron Davis I can admit to not knowing a whole lot about him. So I asked my dad if he was good. His response was, "Yeah. He's one of the top 3 point guards in the league." I still haven't forgotten those exact words. Now was this declaration true? We'll get back to this. What I did know after the end of that season was that Jason Richardson and Baron Davis were made for each other. One an athletic point guard with superior passing skills and the ability to get to the rim, the other a freakishly athletic two-guard who could jump out the gym (no Dominique) and knock down threes. The Warriors still weren't very good, but at least I could always be excited about watching them play. But Baron brought something else to the table that was missing. Two things actually. Number one, he was a leader. Jason Richardson was never quite the leader that Baron was. Richardson could help the team win games, but Baron could take control of the game. Number two, Baron was clutch. (Really.) J-Rich had hit his share of game winners and could knock down shots when it counted, but Baron is who I trusted with the ball when the game on the line. He wasn't just the most clutch player on our roster, I'd say he was one of the most clutch in the league. There was something about the ball in Baron's hands with less than 10 seconds on the clock that just felt safe.
(Love the Pirates theme song with the mix!)
However, after his first one and a half seasons with the Warriors, Baron couldn't get the Warriors to the promised land, which was basically the playoffs. I remember Jason Richardson promised the fans that the Warriors were going to make the playoffs the following season after a disappointing '06 season; nobody believed him. Yet the '06-'07 was a special season. We had Don Nelson take over as coach, we traded away Troy Murphy and Mike Dunleavy for Stephen Jackson and Al Harrington, Monta Ellis emerged as a dependable scoring option and we had a gang filled with lovable losers ready to take the Warriors to the playoffs. But there was one leader throughout this magical campaign, and his name rhymed with Karen Mavis. (It's Baron Davis.) Sometimes he would rock the high knee socks, sometimes he wouldn't. Sometimes he had the headband going, other times he left it home. But what remained constant was his high energy game, his leadership, his beard and his ability to hit the big shot. It was a tumultuous season, to say the least, with all the injuries, especially to Baron Davis and Jason Richardson, but the Warriors made a push and made it to the playoffs. What you have to understand was that the last time this happened was 1994 and I was one year old. This was like the Red Sox winning the World Series in 2004, obviously on a much smaller scale. (We made the playoffs, the Red Sox won the title; our playoff drought was 13 years, their championship drought was 86 years.) But still. That year was an ensemble effort with everyone doing their part, but it was Baron who showed up to play hero, both in the regular season and the playoffs.
That exciting playoff run was capped off with a (successful) dunk over Kirilenko in the second round of the playoffs versus the Utah Jazz. I remember watching the game from my living room. The Warriors had blown the game open and Baron had been having little trouble getting to the rim. You knew where he was going as he turned the corner. As he picked up speed I could see Andrei Kirikenko in the corner ready to meet him at the basket. I knew this wasn't gonna end well for AK-47, but what happened completely stopped my heart. I saw Baron rise up and then I saw AK-47 rise up and the next thing I heard was a "Bam!" My eyes saw Baron ram the basketball down the basket while a good, yet obviously foolish, defender was left to be the victim. My mind kept playing the dunk over and over again until I was rewarded with a replay. That was the moment you could be proud to don the Warriors jersey. You could put that poster up on your bedroom wall. It was imprinted into our memory banks; we'll never forget it, Baron will never forget it, Kirilenko will definitely never forget it.
(Damn!)
The next season Jason Richardson was traded, which was a huge bummer for me. I was shocked and it took me a while to get over it. But Baron stayed being Baron, and somehow even better. Yes, Monta and Captain Jack also stepped up, but Boom Dizzle was still our leader. He still pushed the ball and executed Nellie ball perfectly. His passes were still on point. He was still one of the top point guards in the league. He could still hit that turn around shot. He could still juke his defender and then fade away. He could still get to the rim. And when we needed him most, in the clutch, he was there. He was even able to stay on the floor for 82 games. (Got his knees working and shit!) If there was any season he deserved to make the All-Star team as a Warrior, it was this one. The Warriors were even better than the year before, but even after winning 48 games the Warriors failed to make the playoffs in the super tough Western Conference. (You know whose fault is that? David Stern!) No worries though, we have some good players, a great coach and Baron will be back next year to take us to the playoffs again.
(You know who it was going to)
Wrong! Wrong! That didn't happen. Instead Boom Dizzle opted out of his last year of the contract and left the Warriors. Worst of all, he went to the Clippers! (The fucking Clippers! Pre-Blake fucking Griffin Clippers?!?) It was our version of LeBron's decision, again, obviously on a smaller scale. An era had ended. Al Harrington wanted to leave, Monta Ellis would fuck up his ankle in a moped accident (dumbass!) and Stephen Jackson was our best player by default. I felt betrayed, yet I didn't burn my jersey like some idiots. (Talking to you Ohio!) Baron spent the next three years in Los Angeles, never quite playing the basketball he played in Oakland, nor taking the Clippers to the playoffs. He got to enjoy one year of Blake Griffin, the highlight of that year being allowed to throw a basketball out of a Kia at the Slam Dunk Contest so Blake Griffin can jump over the hood and dick riders can say he jumped over a car. But that's neither here nor there. I booed when he came into town but eventually my bitterness turned into pity. I wasn't liking what was happening to Baron. He deserved much more than his body and teams were giving him. He went to a LeBron-less Cleveland next and soon was relocated to the Knicks, probably the best team he was on since '08, where he backed up Jason Kidd who was the back up for Raymond Felton. That's not the way you want your hero to go out. After that the next time I saw him he was on NBATV before last year's playoffs talking about how great the crowd is in Oakland. After the Donald Sterling fiasco I read some article about how Baron Davis personally felt discriminated in his interaction with Sterling.
(Told you he'd be back)
That brings us to this last Sunday. My co-worker, his friends and I went to see some Drew League basketball. If you don't know what Drew League is, it's a summer basketball league in South LA sponsored by Nike at Drew High School. Sometimes notable basketball players show up to play. On Sunday I got to see Nick (Swaggy P) Young, the player formerly known as Ron Artest and Terrence Ross, just to name a few. But then I saw a familiar face with a familiar beard. Baron Davis was in the building and he was going to suit up and play some ball. The first thing I noticed while his team was doing lay-up lines was how much weight he put on. Baron was never really keen on staying in shape, especially the during the latter years of his career, but Baron looked straight up fat. (I remember meeting Baron before one of the games during his Golden State years and asking for an autograph. I got to meet the guy who I tried to emulate on the court! Even in my excitement I could notice that this basketball demon was a little on the pudgy side.) If I didn't know any better I'd think he was just someone's dad who thinks he's still got it. (Talking to you Dad!) I wasn't even sure if he was going to start. "Baron can't go out like that!," I told my co-worker. But he did start and I was curious to see how he was going to do. I expected he would run the point for a while, get tired and sit down. (You know, fat people stuff.)
(Old Man Davis)
Wrong! Wrong! (These are happy "wrongs"!) When I tell you Baron still has it, I mean Baron still has it! No, he wasn't as fast as before and no, he wasn't dunking on people. But even in his fat suit he was still unguardable. His jumpshot never left and neither have his handles. Terrence Ross tried locking him down and Baron just shot over him. Metta World Peace tried putting the clamps on Baron and Baron shook him with those crossovers. Baron was making wrap-around passes, quick cross over and fade-aways and I was having flashbacks. There was a moment in the game when Baron's team was up 9. Metta World Peace hit a three to cut the lead to 6 and then his team scored again cutting the lead to 4. It was the 4th quarter and we were approaching the last minute of the game. It was Boom Dizzle time. Baron dribbled the ball down the left side of the court and started to post up his defender at the perimeter. He turns around and fades away behind the three point line... buries it! Next possession, the exact same play. Baron turns around and fades away from behind the arc... dagger! Moments later the game was over. Everyone was wowed by Baron's performance but I had seen it before. It was just like watching him with the Warriors, except with closer seats. I went home and immediately started looking up old YouTube clips. I ended up learning that he was trying to get back in the league. My mind started to do gymnastics and picture Baron donning the number 5 for the Warriors once more, backing up Steph Curry and putting on a show. I know that's not happening, but a guy can dream, right?
(Hol' up! Lemme catch my breathe!)
So was Baron Davis ever an elite player, so much so that my dad's "top 3 point guards in the league" comment was warranted? Let's find out. I used basketball-reference.com to do some research. (I cite my sources because I'm a college student and shit.) We're gonna look at two seasons in Davis' career. 1) the '03-'04 season which was his best as a Hornet 2) the '07-'08 season which I would argue was his best as a Warrior. I'm going to compare his stats with other top point guards in the league in each respective season.
'04-'05
Baron Davis- 22.9 ppg; 7.5 apg; 4.3 rpg; 2.4 spg; 39% FG%; 32% 3P%
Stephon Marbury- 20.2 ppg; 8.9 apg; 3.2 rpg; 1.6 spg; 43% FG%; 32% 3P%
Jason Kidd- 15.5 ppg; 9.2 apg; 6.4 rpg; 1.8 spg; 38% FG%; 32% 3P%
Sam Cassell- 19.8 ppg; 7.3 apg; 3.8 rpg; 1.3 spg; 49% FG%; 40% 3P%
Steve Nash- 14.5 ppg; 8.8 apg; 3.0 rpg; 0.9 spg; 47% FG%; 40% 3P%
Verdict: Jason Kidd was without a doubt the best point guard in the league at the time. He lead the league in assists per game, was the best player on a good New Jersey team was was 1st team All-NBA. After that though you can definitely make the case that Baron was a top 3 point guard in the league.
'07-'08
Baron Davis- 21.8 ppg; 7.6 apg; 4.7 rpg; 2.3 spg; 43% FG%; 33% 3P%
Chris Paul- 21.1 ppg; 11.6 apg; 4.0 rpg; 2.7 spg; 49% FG%; 37% 3P%
Steve Nash- 16.9 ppg; 11.1 apg; 3.5 rpg; 0.7 spg; 50% FG%; 47% 3P%
Deron Williams- 18.8 ppg; 10.5 apg; 3.0 rpg; 1.1 spg; 50% FG%; 40% 3P%
Jason Kidd- 10.8 ppg; 10.1 apg; 7.5 rpg; 1.7 spg; 39% FG%; 39% 3P%
Verdict: As much as I hate to say this, Chris Paul was the best point guard in time at this point in time. He led the league in assists and win shares and led his team through a great regular season, but not very far in the playoffs. (As usual.) After that you could try to squeeze Baron behind Steve Nash at number 3, but Deron Williams wouldn't be a bad choice.
(The glory days)
So there you have it! Baron Davis was a good point guard who played for the Warriors, lead them to the playoffs, dunked over a Russian (?) dude, left the franchise in ruins, had his body betray him (much like he betrayed a certain young boy), retired, got fat and started lighting up a summer basketball league in Los Angeles. I hope you enjoyed reading this as much as I enjoyed reminiscing. Follow me on Twitter and Instagram @ELGUAPO3 for Twitter and @CAPTAINCRUNCHTIME for the 'Gram. I took the liberty of leaving you a Baron Davis YouTube mix for you enjoyment. (Note: for you guys who spend the time to create YouTube mixes of our favorite players, you da real MVPs.) Enjoy your summer and stay Guapo out there! (Especially you Baron.)