PARTY PEOPLE!!! That's the start to the 1993 Miami bass smash hit "Whoomp! (There It Is)" performed by Tag Team and it's also the start to this edition of Infinite Wisdom. I'm you host El Guapo and today I update an old popular post of mine. You guessed it! I'm ranking the NBA Finals losers once more to take into account the results of this year's Finals. Where will the 2014 NBA Finals runners up Miami Heat land on the list? Continue reading to find out.
12. 2007- Cleveland Cavaliers (Lost in 4 Games)
This is th
e only team on this list that got swept in the Finals. I remember this being a super boring match up. I also remembering earlier in the playoffs my Warriors upsetting the Dallas Mavericks. We Believe! (God! Do you ever shut up about the Warriors?) Nope. Now back in '07 everyone thought the Finals would be a rematch between the Pistons and Spurs. Then, in the Eastern Conference Finals, LeBron James said "Not Today!" and single-handedly upset the Detroit Pistons to put the Cavs in the Finals. And I really mean single-handedly. Do you even want me to tell you the rest of the starting line-up? Boobie Gibson, Drew Goodon, Sasha Pavlovic & Big Z. Well, long story short LeBron couldn't defeat the Spurs on his own.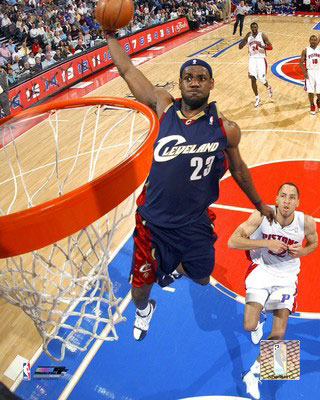 11. 2014- Miami Heat (Lost in 5 Games)
I have a lot to say about this team and this sad match up. First of all, this was a great team that had taken a huge step backward due to age. It was essentially the '07 Cavs but with older people with bad knees. Dwayne Wade with his rickety knees was a hyped up Mo Williams. Ray Allen was Delonte West with a nice resume and no experience with LeBron's mom. Once again LeBron had to carry a sorry team to the Finals just to lose. The difference this time was this team had a few rings under its belt. The Heat were fortunate enough to be on the massively weak Eastern Conference or else they probably wouldn't have made it to the Finals. What was supposed to be an epic rematch of last year's Finals turned into some of the most boring and sad basketball I have seen in my relatively short life. The Heat got blown out in the four games they lost by the team that perfected the art of team basketball. (The Spurs really love their fundamentals.) The one game they won was arguably a game that the Spurs gave away. The most memorable this about this series will the the Malfunctioning AC Game and LeBron heading to the bench with cramps.
10. 2009- Orlando Magic (Lost in 5 Games)
I bet a good number of people reading this blog are going, "Oh yeah, the Magic were in the Finals. Forgot all about that." And with good reason; this was a very unmemorable match-up. Everyone and their mom wanted to see LeBron vs. Kobe and if not at least a Boston/Los Angeles rematch. Sad to say we got neither. This was back when Dwight Howard was still NBA's sweetheart. "Dwight can do no wrong!" they said. (Silly Orlando folk.) It's not like this was a shitty team necessarily. It just wasn't nearly as good as the Lakers. Orlando's offense consisted of having Dwight in the middle with their three-point sharp shooters (Hedo Turkoglu, Rashard Lewis, Jameer Nelson & good ol' Mickael Pietrus) waiting for the pass when Dwight couldn't get his in.
9. 2012- Oklahoma City Thunder (Lost in 5 Games)
What a disappointing series! What was supposed to be an epic match-up between LeBron and Kevin Durant turned out to be an ass-kick by the Heat. It never really got be Lebron vs. Kevin Durant because Russell Westbrook kept fucking things up for Durant. I'm not hating on Westbrook, I love seeing this motherfucker play, but he has to be one of the most inefficient players in the NBA behind Klay Thompson. (See, I could talk shit about my own team.) It was never King James vs. KD. Instead the rivalry became Russell Westbrook vs. himself, with LeBron becoming the clear winner. It was a pretty solid team though: Kevin Durant the superstar, Russ Westbrook the explosive guard, James Harden the perfect 6th man, Serge Ibaka Mr. Get-That-Shit-Out-Of-Here himself, Kendrick Perkins not smiling, and Grandpa Derek Fisher.
8. 2011- Miami Heat (Lost in 6 Games)
At this time everybody was either in love with LeBron or secretly planning his assassination. The latter was most likely because of "The Decision" made in the off-season. There were a lot of people wishing him the worst during these Finals, including me. And for anybody hating on LeBron, the results were priceless: LeBron averaging less than 18 points, the Heat losing in 6, Chris Bosh crying on the way to the locker room. It's not like it was all Lebron's fault though; the Heat probably had one of the worst benches in the league. It wasn't '07 Cavs bad, but still, it just wasn't a deep team. Also a lot of sportscasters were trying to spin these Finals as some big rematch between the Mavericks and the Heat. The only remaining players from the '06 Mavs team was Jason Terry and Dirk Nowitzki. And unless I'm mistaken the only remaining players from the Heat were Udonis Haslem and Dwayne Wade. (I'm not even going to bother looking that up. You could do that as an extra curricular activity if you want.)
7. 2003- New Jersey Nets (Lost in 6 Games)
For all you youngsters out there who are watching their first season of NBA basketball it's time for me to drop some knowledge. A long time ago the Brooklyn Nets used to be the New Jersey Nets. And by "A long time ago" I mean just last year. You can thank Jay-Z for that. Anyway, the Finals prior to the ones in 2003 also featured the New Jersey Nets. In 2002 they lost to the Los Angeles Lakers which featured the famous Kobe/Shaq duo. Well, 2003 came around and the Nets were back for more and this time they were facing the Spurs. The Nets were hungry for the title but my boy Stephen Jackson said, "Not today!" and put the dagger in them in game 6. Even with a roster like Jason Kidd, an SJND alumni, Richard Jefferson, Kenyon Martin and Brian Scalabrine (yes, even the god couldn't help them) the Nets were no match for the Spurs.
6. 2004- Los Angeles Lakers (Lost in 5 Games)
On paper this sounds like a pretty good roster: Kobe Bryant, Derek Fisher, Karl Malone, Shaquille O' Neal, Gary Payton. Too bad you don't play basketball on paper. The thing was Karl Malone wasn't the Mailman anymore. The Glove was out of his prime. Shaq and Kobe had problems. The result was a loss to the Detroit Pistons in 5 games. And thus ended the Shaq & Kobe Lakers era. Shaq would leave for the Miami Heat and it would be another five years before Kobe and the Lakers would win another title. Five years doesn't sound like a long time but for the Lakers that's a lifetime. (Those greedy bastards!) The thing about this loss was the Pistons didn't really have any superstars. They had a lot of good players, just no household names. I remember thinking, "Who the hell are these guys?"
5. 2006- Dallas Mavericks (Lost in 6 Games)
They were up two games to none. The Mavs had the Heat with their backs up against the wall. Then Dwayne Wade said, "Not Today!" (it's such a great phrase to say) and led a Miami Heat comeback. Mark Cuban's Mavs wouldn't get their "revenge" for another six years but the Mavs were surly a force to be reckoned with, right? (The Mavs would lose in the first round to the Golden State Warriors the following year marking the greatest upset in NBA history.) Still, they had a great roster. Dirk Nowitzki was the unguardable big man who could light it up from three. He was surrounded by solid players Josh Howard, Devin Harris, Jerry Stackhouse and Jason Terry. They probably had a better roster than the Heat but Dwayne Wade was by far the best player in that series. And no one on that team could stop Shaq, even if he was starting to decline.
4. 2008- Los Angeles Lakers (Lost in 6 Games)
The Lakers had gone through some mediocre years up until that point. Then they decided to turn things around and bring in Pau Gasol in a trade with Memphis. Now all of a sudden the Lakers were back in the Finals "reigniting" a rivalry with the Boston Celtics that had been dead since 1987. But the Boston Celtics had the Big 3: Paul Pierce, Ray Allen & Kevin Garnett. As skilled as Pau Gasol is, he was just too soft to handle KG. The Lakers had a great roster though that would eventually win two titles. Kobe had a chip on his shoulder and was trying to win a title without Shaq. Pau Gasol was as skilled as you got in a big man. Derek Fisher, a "Ranking the NBA Finals Losers Since 2003" veteren (see #9 and #6), just being there when needed. Lamar Odom doing solid work at the three or four. Andrew Bynum not playing because his body hates him. All in all a good team.
3. 2010- Boston Celtics (Lost in 7 Games)
A rematch from the Finals two years earlier. The Celtics were sure to do it again, right? Wrong! Kobe & Gang knew what they were doing this time around. This series went the full seven games, one of only two teams to do that on this list. This year the Celtics weren't the "Big 3"; they were the "Big 4". Ray Allen, Paul Pierce & KG had a group meeting and decided Rondo could sit at the cool kids table. The only problem was that the Lakers acquired Ron Artest, now known as Metta World Peace (take notes kids), and his psychiatrist seemed to be the secret to their success. Not even a repeat of the Paul Pierce's fake (?) knee injury from their previous Finals encounter could have saved the Celtics from the inevitable. Kobe wasn't messing around.
2. 2013- San Antonio Spurs (Lost in 7 Games)
And we have arrived. Six years after The Spurs swept LeBron and just LeBron living in Cleveland, the Spurs and King James met again. (This time it was the Spurs vs LeBron living in Miami.) This wasn't really the same Spurs team from years past. They had the same core of Duncan, Parker, Ginoblili and Coach Pop, but other than that the supporting cast was completely different. The Spurs landed a no. 2 seed in the playoffs and swept the Kobe-less Lakers. (Basically the equivalent of the Sacramento Kings.) Then they faced my Golden State Warriors and moved on after 6 games. (Ah yes, the Warriors.) The Spurs then swept the Grizzlies and saw themselves face to face with the league's best team and best player. How was Grandpa Duncan going to pull this off? Here's the thing: Grandpa went through some Benjamin Button shit and was balling like it was still '05. The other former Finals MVP Tony Parker was putting in work. Danny Green came out of nowhere and broke the NBA Finals record for 3-pointers passing Ray Fucking Allen. (Ray got the last laugh.) Gregg Popovich was delivering awesome sideline interviews like it was his job. Then you got Leonard, Neal and Splitter. It was a real solid team. They were almost NBA champs. They were 30 seconds away from sending the Heat to my infamous list, and who knows where I would have put them. But then they choked in game 6. It was a choke so bad I could have sworn they were deepthroating. (Whoa, nasty reference.) Long story short Miami won game 6 and 7 and LeBron got his second ring. So why are the Spurs number 2? Because Manu didn't show up. Well, he showed up one game but the 8 turnovers game cancels his good game out.
1. 2005- Detroit Pistons (Lost in 7 Games)
Like I said earlier, the Pistons weren't a team of superstars. They were just a team of really good players who could get it done. They had one of the best starting five players I could think of: Chauncey Billups, Mr. Big Shot, Rip Hamilton with his face mask, Tayshaun Prince, gets shit done and probably has a good personality, Rasheed Wallace, big man with a jumper that can talk shit, and Big Ben Wallace, who wasn't going to score a lot, but he was going to get them boards and stop you from scoring. Coming off their championship run, the Pistons were ready to face the Tim Duncan and the Spurs. It took 7 games and a big short from Robert Horry somewhere in that series to put the Pistons away. Out of all these losers I've talked about on this list, the Pistons are definitely the best.
And still no one can master the art of coming up short quite like the Pistons, though last year's Spurs were pretty damn close. Instead of 3-peating and being synonymous with Miami (like Tag Team), the Heat wound up on the bottom of my list. (Or top?) Either way stay tuned for more posts. Follow me @ELGUAPO3 for Twitter. On Instagram I can be followed @CAPTAINCRUNCHTIME. Have a wonderful off-season and stay Guapo out there!