Both Conference Finals are over and we are left with a rematch of last year's Finals (Heat vs Spurs). In all honesty I wanted to see a 2012 Finals rematch of Thunder vs Heat or as it's more articulately named, LeBron vs KD. It would be great to see those two duke it out as they fight to build their respective legacies, but San Antonio and Miami isn't a bad series either. In one corner we have the Spurs who play perfect team basketball, beautifully I might add, masterminded Coach Pop and led by Grandpa Duncan. Together Pop and Duncan have won titles together. In the other corner we have LeBron and friends who are trying to three-peat and be the first to do so since the '02 Lakers. Some people are going to root for LeBron (dickriders) while most are going to root against him (haters). I have formed an impression of LeBron that has evolved over the years that has led me to my current decision on who I'm going to root for these finals. A hard decision considering Mallory Edens isn't an option here. (Bonus points for Milwaukee Buck's owner's daughter reference!) Let's take a walk down memory lane and look at the history of hating LeBron.
(2003-'04) That's the Guy They're Talking About?
Even in high school people at ESPN and other sportswriters were saying LeBron was gonna be
THAT
dude. They were calling him the "Next Michael Jordan". Up until this point in my life the only Michael Jordan I knew and had seen played for the Wizards. But I knew about Air Jordan by the way my dad and my uncle talked about him. Old heads said MJ was the greatest of all time. The only vintage MJ I saw were in those NBA Entertainment cassettes my dad kept. But this LeBron guy was the next Michael so I had to pay attention. If you ever read my
Greatest Draft Classes
blog post you know the draft LeBron came out of was stacked with talent. Dwayne Wade, Chris Bosh and Melo came out of the same draft and LeBron James was the best of the bunch.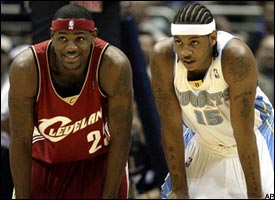 ('04-'06) He's Coming to Town!
We were all witnesses. I looked forward to these games. My Warriors weren't that good at this time (never stopped me from coming to the games anyway) so it was almost a forgone conclusion what the outcome would be, but everyone wanted to see LeBron. He was amazing. He could jump out the gym, no Migos. He could attack the basket and slam it home with authority. He could chase you on a fast break and swat your lay-up from behind. He could get triple-doubles and do it in an exciting way. He was the big show during Christmas games and All-Star games. It was fun to watch him in the playoffs because there was no pressure...yet. Just witnesses.
('06-'07) Coming Soon
This season shouldn't have happened in hindsight and I'll tell you why. The Cavs (just LeBron) finally beat the Pistons and faced the Pistons and faced the San Antonio Spurs in the Finals in 2007. The Cavs basically had LeBron and a couple of role players and were swept in the Finals. What this really did was set the bar high for King James. He made the Finals and it was now time for him to win a ring. It didn't matter if he didn't have the supporting cast necessary cast for the job, it was time for him to earn his MJ comparison. We were no longer witnesses; we were judges.
('07-2010) Kobe or LeBron?
That was the question. Before LeBron could tackle the greatest basketball player of all time he had to dethrone the current king of the NBA, Kobe Bryant. If you asked people who was better between the two you'd get mixed responses. Laker fans said Kobe no matter what. (And they foolishly still do.) But for everyone else it was kind of a toss up, but the hardware went to Kobe. I would make the case for King James, 70% because I hated Kobe and the Lakers and 30% because I sincerely felt LeBron had a more complete game. During this period Kobe went for 61 points in Madison Square Garden which LeBron followed up with a 50 point triple double in the same building. In '08 Kobe was MVP and returned to the Finals where the Lakers lost to the Boston Celtics. The following two years LeBron was MVP but failed to make the Finals. Kobe on the other hand won two more rings. We never got the Kobe/LeBron matchup we wanted, but the bigger issue was LeBron still had no rings, no real supporting cast (fat/old Shaq doesn't count), no respectable coach and to top it all off his teammate Delonte West was fucking his mother. (Maybe?) We all had our eyes on him. He was at a crossroads.
('10-'11) The Decision
In case you don't know how this infamous event played out here's a quick recap. LeBron was an unrestricted free agent. He could stay in Cleveland and be a hero. He could go to a big city like New York or Miami. Wherever he went he was going to be with Dwayne Wade and Chris Bosh. Instead of just signing with a team and being done with it, LeBron decided to hold a one hour special called "The Decision" where he told the world he was, and I quote, "Taking my talents to South Beach." That just rubbed a lot of people the wrong way, especially Cavs fans. People in Cleveland burned his jerseys. Suddenly the player who could do anything had lots of holes in his game. He had no reliable shot. He didn't have the killer instinct to win him a title. In crunch time he went cold. I found myself making a case for Kobe over James out of spite. (That's when you know you've fucked up.) I referred to the Heat as D-Wade's team. So when the Heat made the finals against the Dallas Maverick I relished in the fact that King James floundered and Miami lost. We were no longer judging him; we were scrutinizing him. Some were just hating him.
('11-'12) About Damn Time
I'm about
80%
70%
60% sure this is the year we all started to make fun of this guy's hairline. What I do know for sure is this is the year LeBron James won his first NBA title. It was during the short NBA lockout season that King James recaptured his MVP. He caught a few lucky breaks with Derrick Rose going down. He faced Boston the last season the Big 4 would ever play together. He competed in the Finals against a young Thunder team and won in 5 games. LeBron finally shook off the perception that he had no killer instinct. He was finally able to say he performed when it mattered most. He could finally say he was a champion. Even those who were rooting against him, including myself, couldn't help but feel relived. But none more relieved than the man himself. This also marks the beginning of a LeBron/KD rivalry, but what really mattered is LeBron James could finally breathe.
('12- Present) KD or LeBron?
Kevin Durant is now what LeBron was years ago. Kevin Durant is chasing the rings LeBron has. LeBron is trying to build on his dynasty. Since they met in the Finals here's what's happened: LeBron unanimously won the MVP race in 2013 and led the Heat back to the Finals. Kevin Durant looked poised to meet him there but and injury to Russell Westbrook sent the Thunder home early in the Conference Semi-Finals. Meanwhile King James faced the San Antonio Spurs and thanks to LeBron's headband falling off and a timely clutch three pointer from Ray Allen the Heat won in 7. This year Kevin Durant played the best basketball of his career and won the MVP award and wrote a tear jerking speech. The Heat breezed by a really weak Eastern Conference and made it to the finals for a fourth straight time. The Thunder faced a really tough Western Conference and eventually lost to the Spurs. Hopefully we will one day get to see James and Durant in the Finals again but for now Durant will keep chasing him. LeBron on the other hand doesn't really have anyone to chase that's still in the league. The man he's chasing retired over a decade ago. I love KD, even if Lil B doesn't, but I know James is the best player in the league and will be for a while.
So as we prepare for Game 1 of the NBA Finals tomorrow here's what I have to say: I don't hate LeBron. Whatever ill feeling I had towards him died a while back. On a basketball level I really do respect him. So when it comes to this series I want the Heat to win and this is why. I'm jealous of my dad and uncle. I'm jealous of the way they talk about the basketball they saw. I missed out on Magic, Larry and Michael. I caught the end of Shaq. I saw the better half of Kobe. But LeBron is a player I grew up watching whether I liked him or not. I want to tell my kids of the basketball I saw. I want to tell the youngsters in my neighborhood that I saw one of basketball's greats three-peat. I don't think it will happen though. The Spurs are seeking revenge after last year's Finals and they are better a year later with younger players improving and the addition of Marco Belinelli. The Heat are worse than last year with the exception of LeBron James and (I hate to say this) Chris Bosh. My prediction is the Spurs will win in 6, but I hope that's not the case. But it doesn't matter to me who wins. I just want to watch some damn good basketball.
Follow El Guapo on Twitter @ELGUAPO3 and Instagram @CAPTAINCRUNCHTIME. Thank you for taking the time to read my blog. I'm coming up with more shit over the next few weeks so keep your eyes glued to the computer. Let's enjoy these Finals and stay Guapo out there!